We develop
bio-inspired materials and technologies

to activate

,


program

,


and reinstate


optimal immune system function.
Specifically, we
Activate the immune system to hone in disease sites.
Program immune cells to recognize and clear disease.
Reinstate immune balance to restore normal function.
We are unlocking the power of the immune system.
Our work opens new avenues for treating and preventing diseases that arise spontaneously, i.e. cancer, cardiovascular disease, autoimmune disorders and allergies.
Bio-inspired immune system engineering is the future of human health!
We train and educate the next generation scientists and engineers in immunology, nanotechnology and bioengineering.
---
Recent News
---
March 14, 2019
The University of California San Diego Jacobs School of Engineering was just ranked the #11 graduate engineering program in the country by US News. Hear from more than 200 of these talented graduate students as they present their research at the 38th annual Jacobs School Research Expo, a showcase of the top engineering and computer science work underway at UC San Diego. Full Story
---
February 11, 2019
Researchers have developed an injectable sponge-like gel that enhances the production of T-cells after a bone marrow transplant, increasing the quantity and diversity of these key components of the immune system. This bioengineered device can be injected under the skin at the same time of the transplant to help revive the immune system after bone marrow transplantation. Full Story
---
---
Partner with Us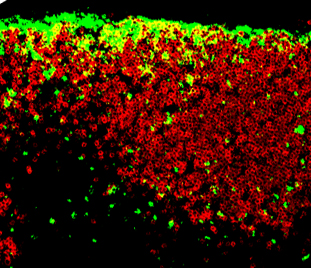 Real-world clinical challenges inform our research. The Center for Nano ImmunoEngineering works closely with industry partners.